Scattered throughout Europe, several Dutch B&B owners crave love. During the recordings of the ultimate love program 'B&B Vol Liefde', they get the chance to find their potential life partner. In the second episode, Astrid gets the jitters in Austria, but not in a good way.
"I still feel that he is going beyond my limits again. I'll pass for that"
The pure Austrian mountain air does little good for Astrid and Alex, her first guest. The tension, not to be confused with chemistry, has been in the air since arrival. Because of the carefully cut (or cut) images, a conversation does not seem to get going and there is certainly no click. When Astrid prefers her bed to her guest's company at nine o'clock at night, Alex thinks it's a good idea to knock on her door for a nightcap and a block of cheese.
Astrid had a bad night's sleep in her accommodation in St. Michael im Lungau. She just can't get to sleep. "I think he also knocked on my door," complains the B&B owner. "I didn't like that he did that. I clearly indicated that it is bedtime for me at that time. That may sound strange to someone, but otherwise I won't last a season. The moment I indicate that, I hope and expect from a mature person that he respects that and that he grants my privacy."
Also read:

A click, tears and discomfort in the first episode of B&B Full of Love
Alex has not been visiting for 24 hours, but has already crossed the border of Astrid, who needs her rest. "It could be because of the tension, but it didn't feel good," she clarifies. Meanwhile, her guest is unaware of any harm. "I tried to get in touch last night," explains Alex. "I know she goes to bed early, but I thought: maybe we can have a drink together. I brought a nice piece of cheese and a glass of wine. I would have liked to eat that together."
The next day it doesn't get much better. Astrid adheres to her strict schedule in which there is no room for spontaneity. That means Alex will be brushed off if he asks for attention. "He has tried twice this morning to get attention. Added to that last night's knocking makes my door lock further." In other words: this match is not going to be it.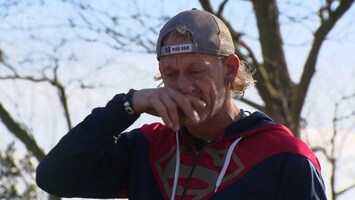 Also see:

Richard from B&B Vol Liefde visits the grave of his deceased wife
However, Astrid does not want to give up hope yet. She decides to take Alex on a hiking date through the mountains, a passion shared by the two. Alex can't wait to win her heart. He is completely unaware that Astrid is not yet on the same level as him. As soon as Alex indicates that he does want to move for love, the door seems to close permanently for Astrid. "I noticed that I immediately stopped walking. He has not been here for a day and that is just too soon."
It's high time to get the furniture seller back on the ground. Astrid clearly indicates to Alex what her limits are and how his behavior leads to her being 'locked'. She returns home with a relieved heart, not knowing that Alex still hasn't quite understood the message: a little later he proposes to buy a property so that they can open another B&B together.
"I find it difficult. I clearly don't come in with him," she concludes. Then Astrid decides to have dinner with her children and not to invite Alex. "I still feel that he is going beyond my limits again. I'll pass for that."
Also read:

Alex from B&B Vol Liefde was first in another dating program
You can see how Astrid and the other B&B owners are doing tomorrow in the latest episode of B&B Full of Love at 8.30 p.m. on RTL 4. Or watch the episode ahead at Videoland.