The brand new season of 'Love Island' has kicked off and viewers are hooked right away, as Twitter has already started talking. After bombshell Fé (23) criticizes the Belgian participant Amandine (20) because of her virginity, viewers stand up for the Flemish one.
Attention: This article contains spoilers about the first episode of Love Island.
"Who cares if someone around that age hasn't had sex yet?"
In an introductory video, Amandine candidly talks about her chaste love life. She explains that she is very picky and therefore does not get into a relationship quickly. For that reason, she 'never slept with anyone', she says. "That's now become such a big thing that people really see me as 'the virgin'."
On the first night in the villa, Amandine is forced to share her secret with her fellow candidates during a round of games. When asked what the worst thing that happened to her during sex, she explains that she has never shared the bed with anyone. Bombshell Fé thinks so. "I am surprised if someone my age has not yet had sexual contact, because I think it is quite normal that you do that at this age," she shares for the camera afterwards.
Also read:

Love Island has 'some surprises in store' for viewers
Viewers on social media seem to be surprised about that reaction. 'Eh, Fé', someone begins, 'what does it matter that someone around that age hasn't had sex yet. What a strange comment.' Another wondered, "What about some people who think it's abnormal for someone 20 years or older to not have had sex?" A third Twitter user is impressed by Amandine: 'I would rather have an Amandine who is still a virgin than a chick who has been with too many men!'
Lennert, who is currently a couple with Amandine, is 'not immediately' broken off. "But it does make me think about how to build it up. It's not easy to take that first step," he explains.
Amandine herself thinks it is special that her first question during the game is directly about this subject. "I suddenly had to open up to people I don't really know."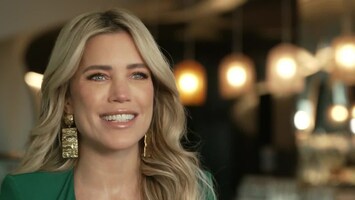 Also see:

Sylvie Meis is looking forward to the recordings of Love Island
In the first episode, the first couples were immediately formed. We briefly list them.
The 26-year-old Mehti forms a couple with the handsome Manon from Belgium. The 23-year-old blonde takes a convincing step forward to show her interest in Mehti from Arnhem.
Mehti and Manon from Love Island


Image © Videoland

26-year-old cheerful Tene has not stepped forward for 25-year-old Gideon, but is eager to get to know him. Gideon may be an international model, but the search for his dream woman is not about appearance. He is looking for someone with a beautiful interior.
Gideon and Tene from Love Island


Image © Videoland

Merijn from Brabant is only 21 years old, but he already knows exactly what he is looking for in a woman: good buttocks. Since he's paired up with the former Miss Kimbery, the 24-year-old beauty will definitely fit this requirement.
Merry and Kimberley from Love Island


Image © Videoland

The 28-year-old Marvin really likes the 21-year-old Sanita, because although this beauty is already linked to Gideon, the Flemish decides to 'steal' her anyway.
Marvin and Sunita from Love Island


Image © Videoland

And then Amanda. He is really looking forward to this love affair and hopes, for now, to embark on it together with 24-year-old Lennert.
Lennert and Amandine from Love Island


Image © Videoland

Love Island can be seen every day at 8 p.m. at Videoland.