The new, long-awaited season of 'B&B Vol Liefde' has started tonight. The first candidates already welcomed their potential new love in their European Bed & Breakfast.
"Flirting is part of it. I didn't come here for nothing"
In the first episode, B&B owners Hans, Denise, Richard and Astrid watch the registration videos of their possible new loves. Together with friends and family, they decide who can come and who can't.
Hans, who runs a B&B in Italy, has invited Hayriye. He is immediately impressed. "If they are all like this, it will be difficult to make a choice." Bad jokes are immediately made when Hayriye indicates that she has not sat on the couch with a man in six years. "You don't have to sit on a couch alone, you know. (…) Can it be so naughty after 50 years? Where does it say that it is not possible?"
"I have a good click with Hans", says Hayriye. "I think he likes me. But I also said, 'There's a few more to come.' I'm sober about that. Realistic."
Also read:

Martijn from B&B Vol Liefde found the recordings 'intense and unnatural'
Denise is the first to get the muscular Dave in her B&B. He is not only approved by Denise, but also by her dog Joey. As a result, things quickly get heated. "He's going to give kisses," she says of her dog.
Dave and Denise question each other and Dave soon sees an opportunity to flirt. "I sometimes have the idea that there is flirting on his part, which is not a bad thing. It is just fun, so I get to know him better." Dave thinks the same. "Flirting is part of it. I didn't come here for nothing."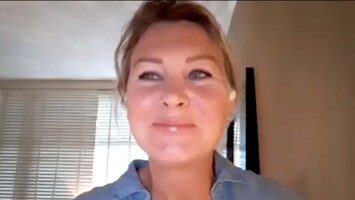 Also watch:

What about Bert and Romana now?
In fact, there is an immediate click between the two. Denise is very impressed with her first husband. "Very nice spontaneous boy. Very active. Looks good, well-groomed. You can see that he likes sports", she chuckles.
During a walk, the conversation quickly turns to getting married. "I'd like to get married," Dave says. "I've already been engaged." Dave has no trouble opening up to Denise. "I was engaged for a year. We were together for about six years. (…) I came across a card in the car and it showed that she had been having an affair for a year."
Also read:

B&B Vol Liefde dog Roosje disrupts broadcast Renze
Richard has only recently lived in Portugal. He has bought a B&B that still needs a lot of work. Richard leaves home and hearth after his wife dies. He was deeply in love with her. "She had such a big heart. She just raised me (…) I just needed her. It was obvious. I thought I would grow old with her. She always said, 'Rich, you should never take it for granted, because when you take something for granted, it comes off of you.'"
Richard still misses her every day. "The most terrible thing you can take with you," he says, wiping the tears from his cheek. Now he is ready for a new adventure in Portugal and preferably with a nice woman by his side.
Also read:

These are the candidates of the new season B&B Vol Love
Astrid takes care of her B&B to perfection, but she still lacks a man. Soon Alex comes over. That doesn't look very sparkling at first glance, but according to Astrid that is due to the nerves. "I saw that he is nervous. That makes sense. I am nervous too."
On the first day, it doesn't get any further than a little something about the B&B. Still, Alex seems very impressed with Astrid. A few awkward silences later, the two make their own bed. "I think if we are a day further, it will be a little easier."
B&B Full of Love can be followed every working day this summer at 8.30 pm on RTL 4 and on Videoland you can look a week ahead. In the coming episodes we will meet B&B owners Hans from France, Ted from Madeira, Martijn from Portugal and Natasja from France.