The eighties are back alive† Courtesy of the new season of the hugely popular sci-fi series 'Stranger Things' on Netflix. Nowadays, the choice of music (Kate Bush, Metallica,…) is especially praised, but the series also inspires in the fashion field. Fashion brands are rushing to release a 'Stranger Things' collection, because that is big business†
Checkered grunge shirts. Flashy windbreakers. Also in the fourth season of 'Stranger Things' the eighties fashion is finger-licking good. For the first time, the series is set in California in addition to Hawkins, Indiana, and that is clearly visible in the outfits. Costume designer Amy Parris did an excellent job dressing the monster-hunting kids in trendy outfits that perfectly reflect the cool California vibes of 1986.
She herself said in a Netflix blog that the hair in the new season is even bigger, and the costumes even brighter, more exuberant and more trendy. In other words, 'Stranger Things' was never as eighties as it is now.
Great collabs: from Quiksilver to Zara
With each new season, new collabs of (fashion) brands are also introduced that are eager to link their name to one of the most successful series of all time. In 2019 – when the third season came out – Netflix collaborated with no fewer than 75 brands.
For the fourth season, they called on Quiksilver, the originally Australian surf brand that is now based in California, for their fashion merchandise. An ideal match, since a large part of the series now also takes place in California. The collection includes windbreakers, vintage T-shirts, surf shorts and tracksuits, all to be the fiercest and the busiest. It doesn't get more eighties. Eduardo Franco, one of the new faces of 'Stranger Things', is even the model of the collection.
(Read more below the photo.)
The iconic American watch brand Timex also releases three vintage watches that turn back time to the 80s. JanSport, the American backpack brand that also adorns the back of many school-age teenagers in our regions, offers backpacks that they themselves describe as "made to fight". The tagline also reads "made in the Upside Down", a reference to the parallel universe from 'Stranger Things' where Eleven and her companions battle monsters like Demogorgons and Demobats.
(Read more below the photos.)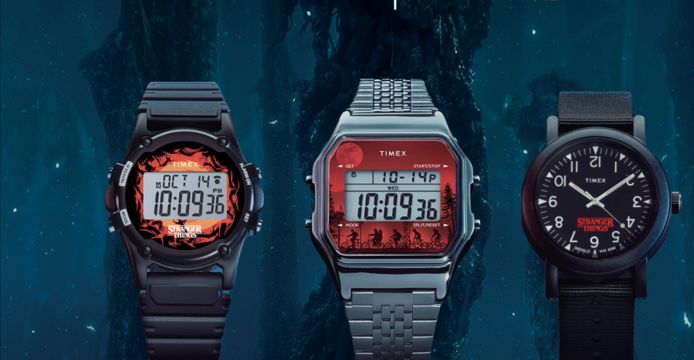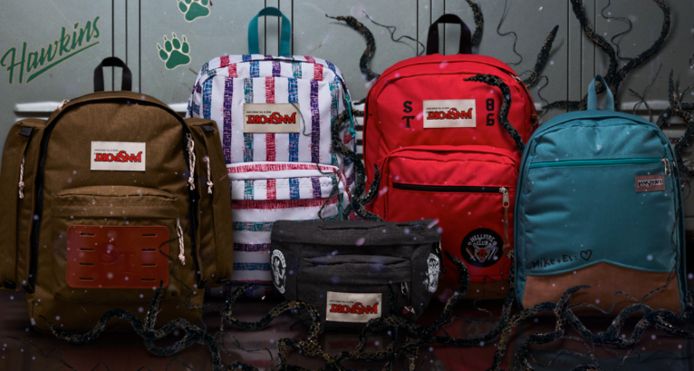 But Zara is also completely captivated by the eighties universe of 'Stranger Things'. Their boys' collection breathes one already and the 80s, and is made with modern technology that uses less water. That is smart from a marketing point of view, because the target group that goes for 'Stranger Things' merchandise mainly consists of young people. Sustainability is now a major precondition for them to buy new clothes.
Pull&Bear, which belongs to the same group as Zara (Inditex), is making waves with T-shirts from Hellfire Club, a nod to Hawkins' Dungeons & Dragons school club. And Vans is also capitalizing on that reference with their Hellfire Club edition of the legendary Old School sneaker. It will be on sale from August 26 and it is expected to be sold out in no time; the fate that befalls just about all 'Stranger Things' merchandise. When Primark started offering 'Stranger Things' t-shirts in early June, there was a real stampede in London and people almost went to blows. It was like an epic fight in the Upside Down. Afterwards, many of the T-shirts that only cost 5 euros were offered on eBay for 150 euros.
(Read more below the photos.)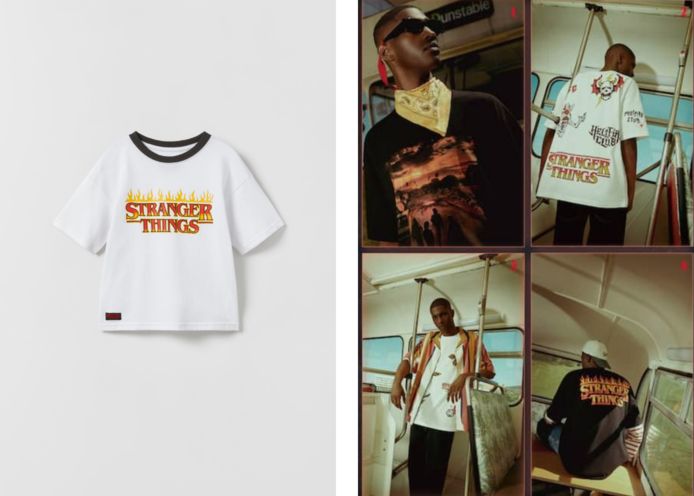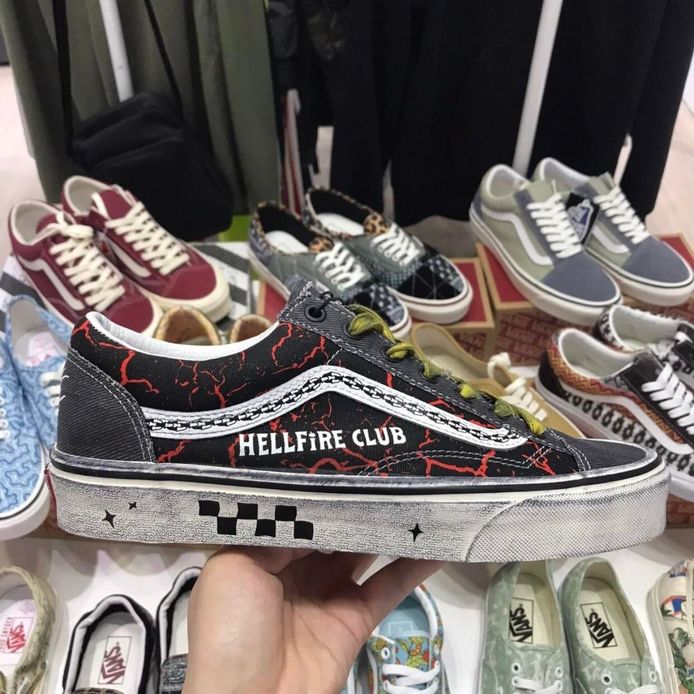 Nostalgia as purchasing power
Such is the appeal of 'Stranger Things' and it cannot be underestimated. Because just like the other popular Netflix series 'Sex Education' and 'Bridgerton', 'Stranger Things' not only fits in with the zeitgeist of nostalgia, but it also determines that zeitgeist. Young people increasingly mirror their favorite series and also translate that aesthetic into their daily lives. Mini- and teenage copies of main characters such as Eleven (Millie Bobby Brown), Mike Wheeler (Finn Wolfhard) and Will Byers (Noah Schnapp) appear on the streets. They wear vintage T-shirts, wide-leg jeans and skate sneakers.
The young people themselves did not experience the eighties, but they do know the era from stories from their parents and grandparents, and thanks to series such as 'Stranger Things'. But also with real eighties kids, who grew up in that decade and have entire photo albums to prove it, 'Stranger Things' strikes a chord. And responding to emotions is simply one of the greatest talents of fashion brands. Metallica's mega-hit 'Master of Puppets' from episode nine of season four of 'Stranger Things' could just as easily hit the fashion world. Like a puppeteer, they pull the strings of our nostalgia-conquered hearts and purses. And that is the real supernatural power of 'Stranger Things'.
Also read:
'Stranger Things' fans start petition: "He deserves to return"
Netflix hit 'Bridgerton' is back: these 6 fashion trends from the 19th century are becoming wildly popular again thanks to the series
All Barbie? Completely in pink will be the summer trend for those who like to stand out
Free unlimited access to Showbytes? Which can!
Log in or create an account and never miss a thing from the stars.

Yes, I want free unlimited access