Many online clothing stores have sales. But those who shop online enter a minefield full of clever sales tricks and unwritten laws. Do you struggle with bad purchases and do you often have to return packages? Then these tips will help you avoid the typical pitfalls.
Online shopping is no mean feat. Am I buying the right size? How will that fabric feel in real life? And what the hell does that dress look like on my body? It sometimes seems as if you have to take a gamble online. But if you have that feeling, you lack the right knowledge. Because there are indeed a few smart techniques to make your online shopping trip more successful.
1. Use filters
Katrien Van Den Broucke is a personal shopper and stylist at La Patka, a store in Ghent. She often makes online purchases for herself and for her customers. "I love that you can shop more specifically online," says Katrien. "Suppose you are missing a red blouse in your wardrobe. Then you can apply the filters in your search function that all online shops now offer. Filter by blouses, your size, your budget and by color, after that you can often filter by sleeve length, physique, décolleté and so on. That way you get to the perfect item much faster."
"In order to apply those filters smartly, it is important that you first know which part of the body you want to accentuate and which you prefer to camouflage. If you find that your calves are a bit heavier, look for a dress that falls to your ankles. If you have a fuller bust, filter for tops with a deep round or v-neck, because that is more flattering. The better you know your body, the better you can put those filters to work for you."
(Read more below the photo.)
2. Juggling sizes
When you have found the perfect item, you still need to choose the correct size. Not easy either, Van den Broucke knows. ,,The best tip I can give for this: know the brands. Each brand has its own size chart. For example, a German or Dutch brand will often be broader in scope than a Southern European brand. That is why it is useful to mainly shop for brands that you already know and wear. You often know about those brands how their sizes work and whether their fits fit nicely on your body."
Are you still shopping with a new brand? Then it can be a smart idea to order an item in multiple sizes and to get to know the size chart of the brand better.
"Try to have basic knowledge of fabrics," Katrien tips. This way you can better predict how a piece of clothing will feel. "Know that natural fabrics like cotton and silk are more pleasant to wear. And know that the amount of stretch in a clothing item (indicated as elastane in the composition, ed.) indicates how comfortable it will be. And if you shop synthetic fabrics, know that viscose breathes a little more than polyester and will therefore feel more pleasant."




Be extra critical of the photos with the models. Often they adopt a pose that camouflages the item's true fit

Personal shopper Katrien Van Den Broucke
Want to shop for bargains outside of the sales? Then Katrien recommends that you specifically surf to the websites of your favorite brands. ,,Many brands have a permanent 'sale' tab on their site, where they list the items from the past season for sale. You can often still wear sweaters or tops from the winter collection in the summer. And this is also a good way to shop for brands that are otherwise outside your budget."
3. Be critical of photos
Katrien's last tip: don't rely solely on the photos on the website. "Very often, those models have the perfect figure for a specific item of clothing or they adopt a pose that flatters the item. For example, in those long dresses that are hip now, models often put a foot forward, show a piece of leg. In this way they may camouflage that the dress is shapeless. Then it is important that you take an extra critical look at all photos, even of the item without a model, and check what the exact fit is. Check if you can find photos of ordinary people wearing the item on Pinterest. Or walk through the shop window of the brand in the city to see how their items look in real life in terms of colors and fits."
Journalist David Devriendt (40) has been writing about fashion for thirteen years. He still prefers to shop in a physical store, but has years of experience with buying clothes online. He confirms that you have to be very critical of the photos of a piece of clothing. ,,Those models all look fantastic, are paid to make the clothes look fantastic and often a brand knows exactly which models fit their clothes. Plus, very often they do small retouches on set to make the item fit better and of course there is also perfect studio lighting."
4. Always read the reviews
,,Always read the reviews, maybe they say 'now I know why the model just held his hand there' or another response that offers perspective. Look especially for a photo of the model standing frontally, with arms next to the body, so that you can see how the garment normally fits." If that photo isn't there, search for the item on other websites – those of the brand itself or another major retailer – or check if there's a video of a model wearing the item. A video always shows better how the garment will look in real life.
(Read more below the photo.)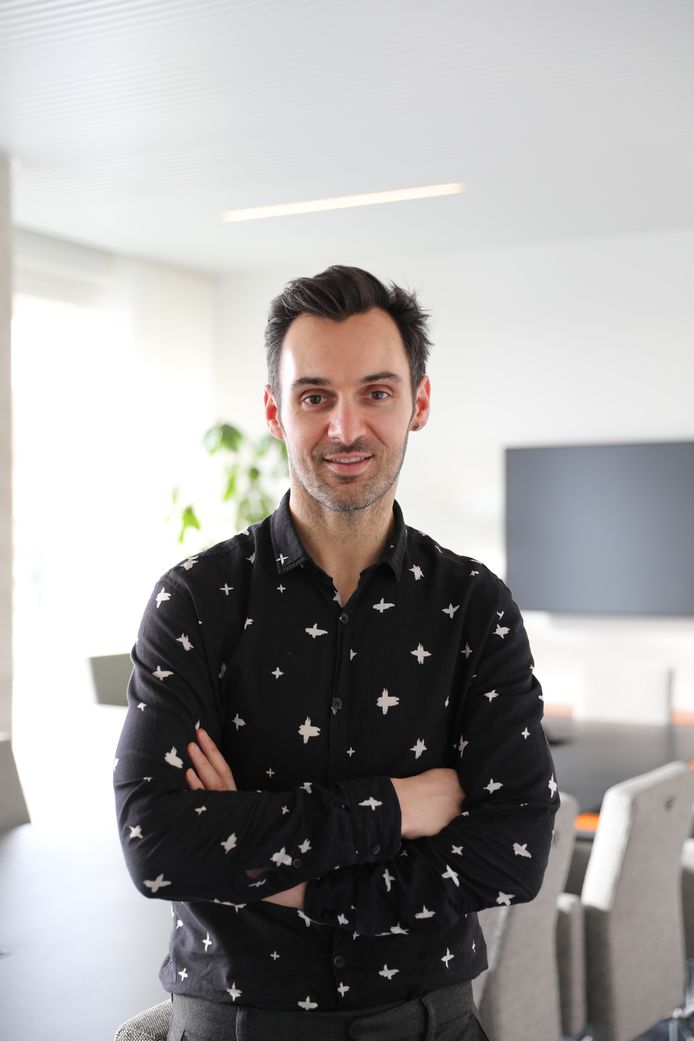 5. Keep track of your own size
David also keeps a close eye on his sizes and recommends that everyone do the same. ,,I know my chest and hip circumference, the length of my sleeve and you name it. With your specific dimensions you can better determine your specific sizes for a certain webshop." There are also apps that can help you with that. Many large web shops now offer a similar service on their website.




Try mindful shopping. Shop locally, watch videos of a piece of clothing, consult your friends: this is how you approach the offline experience

Fashion journalist David Devriendt
6. Zoom in on the seams
To assess quality and fit, David always studies the photos carefully. ,,I always zoom in on the seams. Especially if you buy an item with a print, it is smart to investigate whether it flows nicely at the seams. If there is a photo of the back, take a good look at it. Who knows, you might find hidden flaws there. You can then judge the quality of the material better in a video, if there is one. In it you can see how the material moves. What I always do: look at the garment in other colors. Sometimes the photos of the same shirt in a lighter color show better how the fit is or how the item falls on a body. And of course check the exact composition of the fabric."
7. Don't make impulsive decisions
David has a smart tip for impulse buying. "It's so easy to click one piece after the other in the shopping cart online. But then take a step back. Leave the items in that shopping cart for a day or more, guaranteed you can remove a few impulse purchases the next day. It also helps to collect screenshots of the garments in a document. Then you see them in a completely different setting and that gives a new perspective."
Sometimes it even literally pays to wait. "I've already had a brand send me an email to remind me of my purchases with a discount code," laughs David.
Above all, he hopes that fewer people will fall into the 'buy to have' trap online. "Even though the internet doesn't really encourage it, try mindful shopping. Those online retailers know all the tricks to make you shop. But try to limit yourself to items that go well with your wardrobe or with the style you want to evolve into. And try to emulate the offline experience. Shop at local web shops, they will give you a better service. Watch videos of the garment, which mimic how you would parade in front of the mirror. And send screenshots to your friends or partner for the social aspect, who knows, maybe their opinion will come in handy."
Watch our most viewed news videos in the playlist below:
Free unlimited access to Showbytes? Which can!
Log in or create an account and never miss a thing from the stars.

Yes, I want free unlimited access