AntwerpThe long-awaited 'Happier Than Ever, The World Tour' by the electro-pop sensation Billie Eilish will only take place tonight in the Sportpaleis, and yet there was already a lot of enthusiasm at the entrance yesterday. About forty die hard fans were already queuing from 9 am to be among the first. Camping is prohibited, so they brave the night together with a sleeping mat, thick sweaters and a piece of pizza: "If people light up, my emotions may well take the upper hand."
It seems as if they have known each other for a long time, the die hard fans of Billie Eilish who set up a figurative tent at the entrance of the Sportpaleis on Monday evening. And actually it is. Many of them already met on the cold stones of other large concert halls in Europe: "I know her from the Billie concert in Cologne, and this girl from Amsterdam", 19-year-old Romy from Rotterdam points to a number of girls in the what looks like a big group of friends.
Strict rules
"We keep in touch via Instagram and that's how we meet again. We've been here since nine in the morning, but from experience we know it's worth it. Most of us go to at least four or five shows and often camp the day before. I must say that Antwerp has stricter rules in this area than elsewhere. A venue manager came to tell us there's a chance we'll have to leave here tonight."
(Read more below the photos)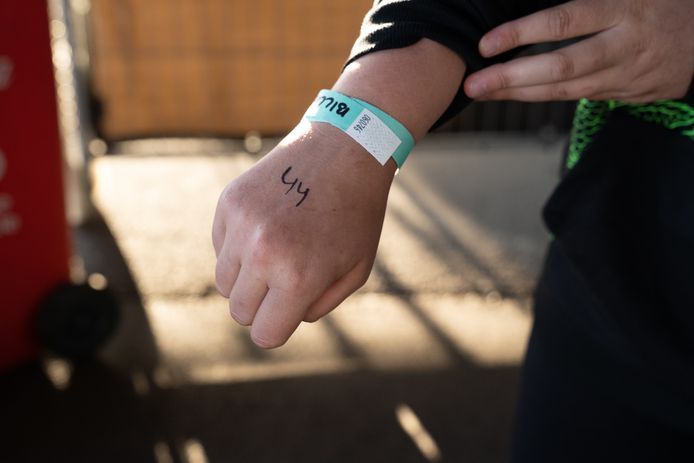 But the fans aren't too concerned about that. According to Marloes (18), the campers do have a plan B: "Most have booked a hotel, some can go in their car. Whatever happens, we help each other. The atmosphere always changes when the fans arrive on the day of the concert. Often they don't respect the queue and try to get ahead of them. Usually it can be solved without too much arguing, but if people help out here, my emotions will probably take the upper hand," laughs the Rotterdam woman.




Did I spend more than 1000 euros in total? Much more.

Super fan Tayra (22)
To prevent this, the Dutch girls introduced a system that they already applied to previous 'Billie Eilish camping trips'. They bring a wristband for every 'die hard' fan, on which they write down their number in the queue. And as a double check, the fans also get the same number written on their hand. "That way they can't write just any number on their hand," says Marloes. "By the way, the doors will open at 8 a.m. tomorrow. Then the Sportpaleis itself has provided a way to keep the queue under control. In groups of 25 we have to sit in enclosed cubicles and we are allowed to go to the toilet or to eat at certain times. You only have that system in Belgium."
(Read more below the photo)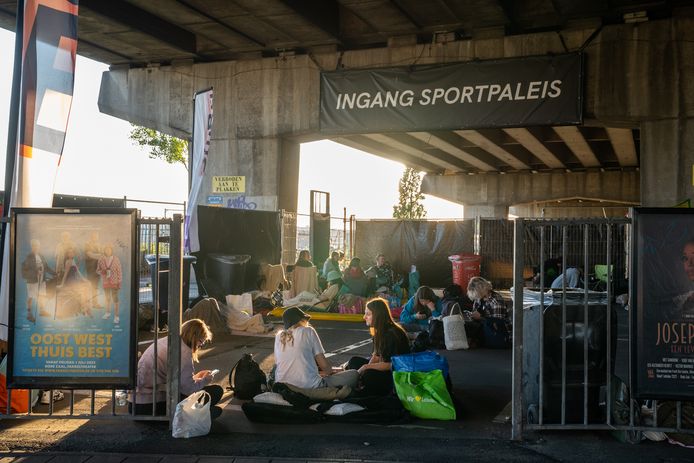 Behind the large group of Dutch people, Thibault (16) from Menen in West Flanders and Kamelya (20) from Antwerp are quietly talking about… Billie Eilish, of course. They don't know each other, but found an ally in each other to spend the night: "Actually I live near here and I planned to come only tomorrow evening, but when I drove by and already saw people queuing, I immediately thought of myself. Mom asked to drop me off. I didn't want to risk anything," Kamelya says. "I was actually only going to arrive at 2 am, but I still caught a few trains earlier," adds Thibault. "It's my first time seeing Billie so I expect a sensational concert."
(Read more below the photo)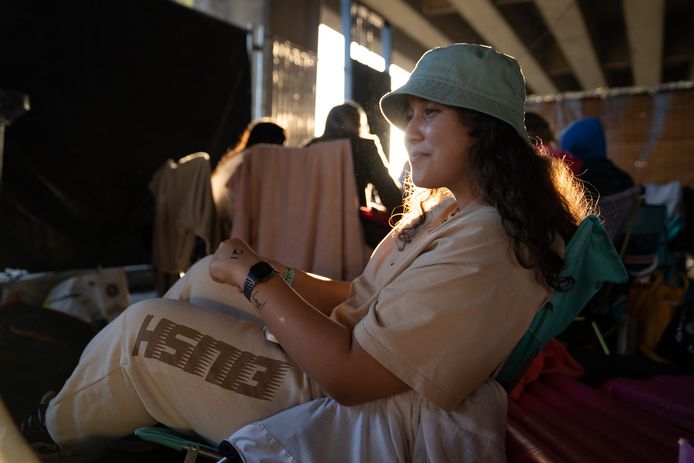 But the biggest super fan seems to be 22-year-old Tayra, who came all the way from Hengelo (the Netherlands) to Antwerp for her fifth concert of the 'Happier Than Ever, The World Tour'. She quit her job especially for Billie. "My contract normally ran until October, but since I couldn't work the whole month of June because of Billie's tour, I resigned from my job at the trampoline park," said Tayra. "Whether I spent more than 1,000 euros in total? Much more. I have to provide all of Europe for traveling, food and lodging. That's a lot of money, but it's well worth it," she smiles.
(Read more below the photo)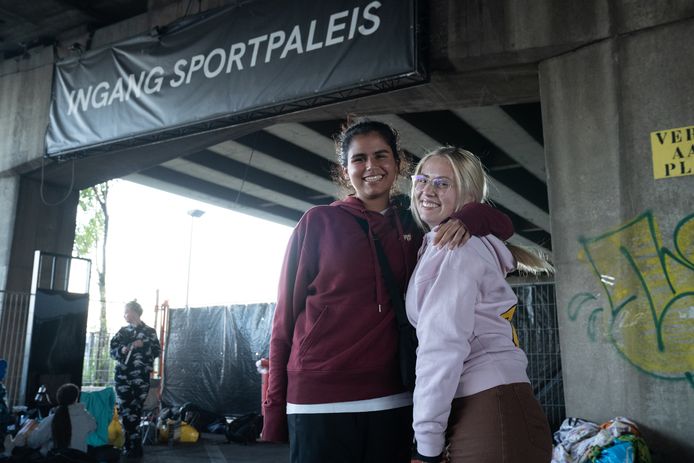 The waiting also turns out to be a family affair, such as for Feli (19) and papa Simon. He is not going to the concert, but still wants to keep his daughter company for two days and keep an eye on things. "I understand her," says the Amsterdammer. "I also do it myself at André Hazes concerts with my wife." Sisters Xenia (18) and Kyani (15) from Waasmunster are also on post: "It is the second time that we see Billie Eilish live, previously we saw them together at Pukkelpop. It is the first time that we stay overnight for a concert. I don't have any stress for the night, that will be fine. And if the police send us away, we will find a place to sleep."
(Read more below the photo)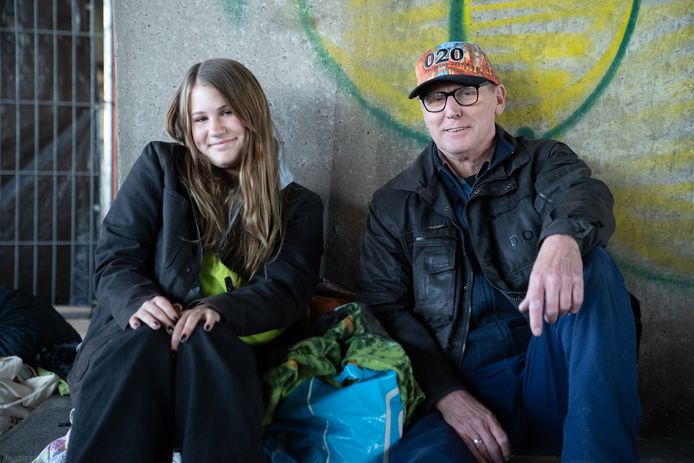 Why is it so important to be the first, we eventually wonder: "Because Billie really has a connection with those who are at the front", says Marloes. "She gives them a hand, or a wink. You really see her emotions up close. She adapts to the audience. In Cologne, for example, it was actually a bit less pleasant, so we hope that the public here in Antwerp is a bit nicer. But we already heard good things." By the way, nowhere on the improvised camping site is there a drop of alcohol to be found: "That's because these evenings are physically very demanding and we want to be fit for tomorrow", she laughs.
Billie Eilish's show continues on Tuesday, June 28 at 8 p.m. Tickets for the show are, unfortunately, sold out.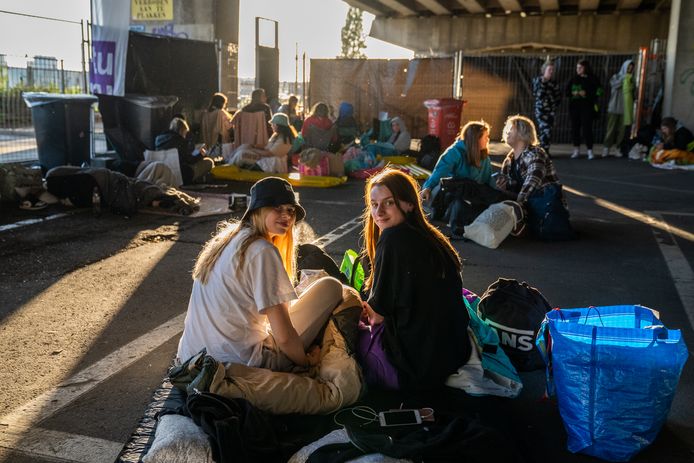 ALSO READ
Festival mayor Jelle Wouters counts down to Rock Werchter: "I still have the feeling that it is one big village festival"
Festival-goers and Alestorm pay a catchy tribute to deceased metal fan Robbe at Graspop: "A real goosebumps moment"
Free unlimited access to Showbytes? Which can!
Log in or create an account and never miss a thing from the stars.

Yes, I want free unlimited access