No tight costume for directors Adil El Arbi and Bilall Fallah Monday evening at the premiere of superhero series 'Ms Marvel'. The two opted for striking, meter-long scarves on the red carpet together with their stylist Oemer Khan and his assistant Amelie Ngira. "We wanted to do something funky and flashy, like the series. With Moroccan flavour. Van Rida, an Antwerp designer." And that Rida, a young designer who doesn't follow the classic rules, is now over the moon.
"A week ago I didn't know anything. Four days ago, I got a text from Oemer Khan, Adil and Bilall's stylist, asking if I could get him some pieces for a shoot and an event. He had apparently caught my name in his intimate circle. Yesterday Adil and Bilall suddenly wore my pieces to the big premiere. When the messages started pouring in, I came completely out of the blue."
Scarves of five meters long
We have a young man on the phone who sounds, sincerely, overjoyed. And very, very proud. Rida Habib Allah (27) is an Antwerper with Moroccan roots. A designer who is only at the very beginning of his career, and who already scores immediately. "It touched me enormously to see Adil and Bilall so suddenly in my designs. I grew up here in Belgium and as a child I never saw such successful Moroccan men who also proudly wore Moroccan designs. The fact that this is now happening and that other young people are now seeing this really means a lot to me."
The big brain behind the outfits of Adil El Arbi and Bilall Fallah? Chief stylist Oemer Khan, assisted by his assistant Amélie Ngira. Under Rida's scarves they wore suits from Améllie's brand Enmodeams, designed by Zoë Coopman.
(Read more below the photo.)
And they are not brave designs that stylists Oemer and Amelie chose. The colorful scarves that Rida created in 2020 for his collection 'Je suis ta mère et aussi ton père' are five meters long and hand-knitted from wool. For the colorful prints, he looked to Moroccan architecture, interiors and tiles. The long scarves can be worn in a thousand and one ways, so to speak. "Adil and Bilall draped them their way, then I wear them around me like a half coat, or make a scarf like that my outfit for a prom, with a long train behind me." Because yes, Rida wears his scarves herself. "They definitely serve as my day-to-day outfits. For a trip to the supermarket or to school. Fashion, no matter how arty, should be wearable, I think."
(Read more below the photo.)
As a designer Rida followed a very 'atypical' trajectory, so to speak. What else do you call it when someone first studies biomedical laboratory techniques, and then suddenly goes into fashion. To then also start a teacher training course in primary education. "I really want to combine the two," says Rida. "As a child I marveled at the beautiful dresses at Moroccan weddings. As a student, I came second in an art competition with a dress that I sewed myself for the first time. Then it clicked and I decided to start a fashion education. But I also want to give back to society in a social way. As a man with my passion for the classroom, I am going to broaden the horizons of those children. That's what I do it for."
The merry-go-round of fashion? Rather not
His mother is Rida's greatest inspiration, he says when we ask him about the origin of the scarves. Two years ago, they were part of his end-of-year collection 'Je suis ta mère et aussi ta père', named after a statement from Rida's mother, which she often repeated after his father's divorce. "It's more like she inspires me: not with her clothes (laughs)how she shaped me as a person. And the scarves also symbolize a game of contrasts. Male versus female. Arab roots in a western world. And life versus death: my father passed away in 2019 and the grieving process also inspired me."
(Read more below the photo.)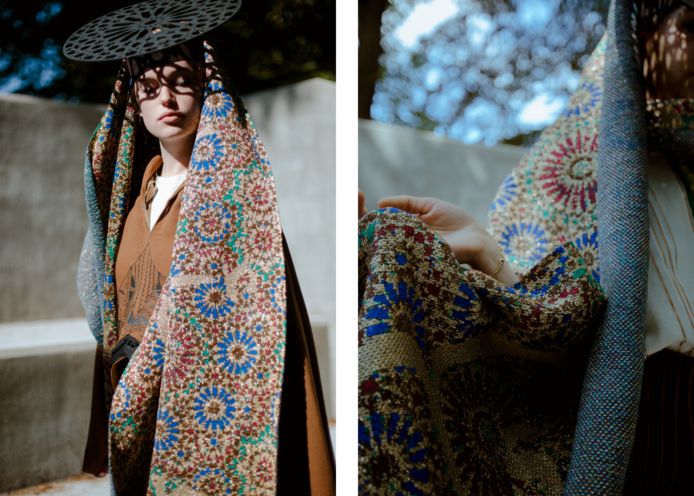 The overjoyed young man is grateful for the recognition he is now getting, you hear that. It is confirmation for him that he is on the right path, he says. But he has no intention of producing and selling new scarves right now. "They will be left alone with me for a while. I get a lot of offers for it, there are a lot of doors ajar. But first I finish my teacher training and I want to enjoy what I have achieved as a designer. Slowly looking for inspiration again. The faster a person rises, the faster he falls again. And I know, in fashion you normally immediately think of the following. But I don't want to go along with that merry-go-round of something new every time. I want to work in a more timeless and sustainable way."
Although Rida promises that this story will certainly have a tail. "I will be selling those scarves in the future. I don't know for what price yet, but I will shorten them to a slightly more normal length. (laughs) I am aware of the demand for it. But I will do it when it feels right to me."
If you want to follow Rida's career as a designer in the meantime, you can visit his Instagram.
Also read:
IN PICTURE. Adil El Arbi poses with his wife for the first time at the premiere of 'Ms. marvel'
Marvel series 'Ms. Marvel' by Adil and Bilall gets first trailer
Free unlimited access to Showbytes? Which can!
Log in or create an account and never miss a thing from the stars.

Yes, I want free unlimited access