People are lying on the white leather benches at the artist foyer of De Doelen in Rotterdam. They are members of the Orchestra of the Eighteenth Century. They take a nap. Rehearsals started early this morning, tonight the concert is in the Grote Zaal. Four young conductors will stand before them and conduct music by Beethoven, Schubert and Haydn.
These conductors are the candidates of a brand new competition for conductors: the International Conducting Competition Rotterdam. Six candidates compete for the prize. In the five rounds of the competition, they rehearse diverse music genres – classical, contemporary, opera – with different ensembles. Four of them are allowed to announce the result of that day in the evening.
There was never a competition like this in the Netherlands. The approach is more ambitious than in other competitions: several professional orchestras participate and there is a jury with many big names, such as baroque conductor Ton Koopman, violinist Maksim Vengerov and composer James MacMillan. The candidates were selected from 165 applications.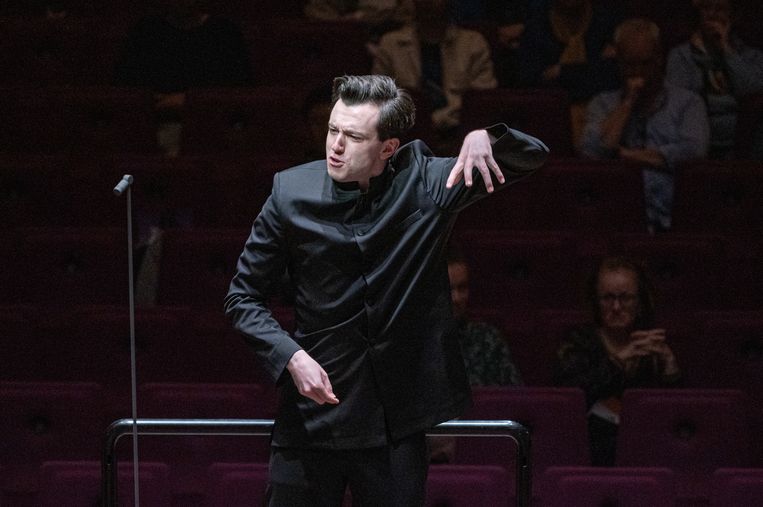 One prize per round

It is not a knockout race, emphasizes competition director Rob Hilberink. 'Unique is that in every round they get the chance to prove themselves and that they have the time to work with professional orchestras. A prize is awarded per round. In the end there is one winner of the Grand Prix, next Friday after the final.' Just like all rehearsals and interim concerts, the final can be visited.
Where they perform in front of the Orchestra of the Eighteenth Century on Monday, they perform contemporary repertoire with the Doelen Ensemble two days earlier. British Chloe Rooke (25) and Belgian Martijn Dendievel (26) rehearse gougalon by Unsuk Chin. They each have thirty-five minutes for the virtuoso piece with its ferocity and crazy timbres.
'How can I help?' Rooke asks confused musicians. She is friendly and disarming, makes it clear how she wants it. Dendievel is also helpful, but a bit more distant: 'You have to know extremely well what you want, otherwise you won't get them.' He strikes wide and big, albeit angular and smaller, both with great attention to detail. Around four o'clock comes the happy news: both are told that they can conduct in the evening.
'But', says Albert Brüggen, first cellist in the Orchestra of the Eighteenth Century, 'all that technique and knowledge is not what you need from a conductor as an orchestra musician. This competition focuses too much on that: displaying their knowledge. That's not how it works with us. We have worked with conductors who were not so trained at all. Frans Brüggen (Albert is his cousin, red.) just told a story, so inspiring that everyone was on the same page again.'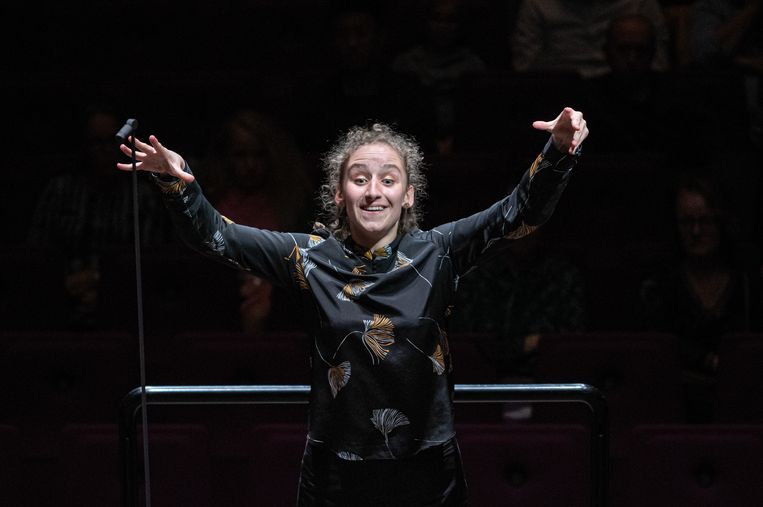 No arrogant ego tripping

Now more than ever, it's also about being nice. Nobody wants arrogant ego-tripping anymore. Dendievel: 'I used to be an asshole. I had very few friends, was only concerned with my goal and not with the way to get there. Admitting mistakes is so important. I've really learned to deal with people differently.
'I have assisted many conductors, so I saw what disturbs musicians. Like when a conductor gives the lead, making everyone breathe, especially the horns, and then say something. They hate that, but you don't notice it until you're not conducting.'
Monday afternoon he looks pale, but he is happy. The classical repertoire is not his thing, he says on Saturday, but he can go on again tonight. 'I will not tolerate fatigue. It's a competition, you have to show that you have everything you need. I had to reprogram the orchestra again this morning after Chloe. I had a much slower tempo, so I had to make sure they had a reason to play slower but not duller. Her way isn't worse or better, just different.'
Later in the afternoon, conductor Kenneth Montgomery, a third-round judge and often guest conductor with the orchestra, sits in the performer's foyer. "The way they rehearsed was really not good," he says. 'They had too much time, so they zoomed in on all kinds of details and then kept stopping the orchestra. You just have to let those people play, otherwise it won't work.' Oh yeah, he thinks Chloe Rooke is incredible. "She's so good with people, with musicians."
togetherness

Rooke, Saturday: 'I like people, I like parties. Togetherness, during and after a concert, between musicians and the audience, that's very important to me.' On Monday she is still good-natured and still loves people. About the orchestra she is'in complete awe†
In the evening the orchestra sparkles and splashes – certainly under Rooke with her high tempos – from beginning to end. Brüggen: 'We were very cooperative now, you know. Normally it is quite anarchic with us, with endless discussions. We haven't done it now, otherwise it won't be fun for them.'
Podcast and final

Wednesday is the opera round of the ICCR, Friday at seven o'clock the final starts. The rehearsals and concerts are broadcast live via iccr.nl and are presented by Christiaan Kuyvenhoven. The ICCR also produced the podcast in which Kuyvenhoven explores in six episodes what it takes to become a conductor, The maestro with the knitting needle† Radio 4 broadcasts the ICCR final live.