with videoA blunder by real estate agent Alex van Keulen caused hilarity among viewers of the program tonight Buy without looking† Together with architect Bob Sikkes, Van Keulen visited a house for the couple Robert-Jan and Maran, but got lost in the backyard and ended up in the pond. ,,Sorry, Alex, are you okay?", sighed Sikkes in front of 1,380,000 viewers.
Broker Alex went house hunting tonight for Robert-Jan and Maran. The couple rented a house for no less than 1,700 euros per month, but stated that it feels 'rather small'. ,,It is quite a narrow house and because of that it fills up quite quickly", Maran explained to Martijn Krabbé. The two did several viewings, but said they were "too inexperienced" to see what needed to be done on a house and they also had no experience with odd jobs. It also didn't help that Robert-Jan and Maran are serious doubters. "Deciding will kill us in the end," said Maran.
Van Keulen was therefore instructed to set out for the couple. The wishes of Robert-Jan and Maran? It had to be a characteristic 1930s home of at least 140 square meters, have at least three bedrooms and an extra office and be in the vicinity of Utrecht, Hilversum or Zeist. And that with a budget of 660,000 euros.
In good spirits Van Keulen visited several houses, but each time the houses did not meet the requirements of Robert-Jan and Maran. So concessions had to be made, Van Keulen made clear to the couple. "What you are looking for is not for sale now," was his message.
The couple decided to increase the budget and drop some requirements. As a result, Van Keulen came across a house that did meet the wishes of Robert-Jan and Maran. Together with architect Bob Sikkes, he went on a viewing. Although the house was outdated, the two saw potential in it.
Pond
The garden was also 'pretty nice', said Van Keulen, who stepped back with his back to a pond. In the middle of a conversation with Sikkes, things went wrong: Van Keulen took one step too much and fell backwards into the pond. ,,Sorry, Alex, are you okay?', Sikkes gasped. "Well, at least we have a pond," the broker noted dryly. ,,Where were we?", Sikkes tried to pick up the thread seriously again. "In the pond", Van Keulen added another penny.
Although Van Keulen will not have very good memories of the backyard of the house, he decided to make an offer. That was accepted and so the team of Buy without Looking to grow. Robert-Jan and Maran could not believe their eyes when they were finally allowed to enter their new palace after all those months of waiting. "Wow", Maran managed to say. ,,Very nice. I find that slightly fat. I still can't believe it", concluded Robert-Jan.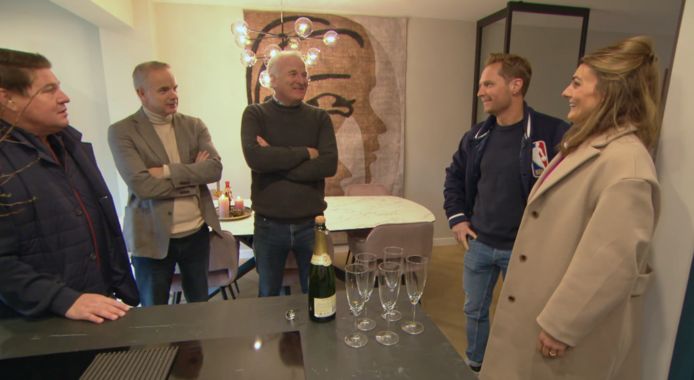 Also listen to the AD Media Podcast:
Watch our Show & Entertainment videos below:
Free unlimited access to Showbytes? Which can!
Log in or create an account and never miss a thing from the stars.

Yes, I want free unlimited access