with videoThe world-famous Mona Lisa painting was attacked by a visitor to the Louvre on Sunday. That writes the Spanish daily 'El Pais'. The work of artist Leonardo Da Vinci was undamaged thanks to a glass display case that protects the painting.
According to a visitor, who tells his story on Twitter, the unknown man first tried to destroy the display case. When that didn't work, he threw the cake to the canvas and spread it over the glass panel. Then he sprinkled roses before he was knocked to the ground by security.
The museum in Paris informed the AFP news agency this morning that it did not wish to comment on the incident. The Mona Lisa is one of the highlights of the largest museum in the world, which attracted ten million visitors a year before the pandemic.
A video shows the perpetrator addressing the visitors in French as he is taken away by security. Among other things, he shouts: "Some people are trying to destroy the earth, think of the earth!"
It is not yet clear what the man's motive was and how he smuggled the cake into the museum. Visitors say the man disguised himself as an old lady and rode through the museum in a wheelchair before committing the attack.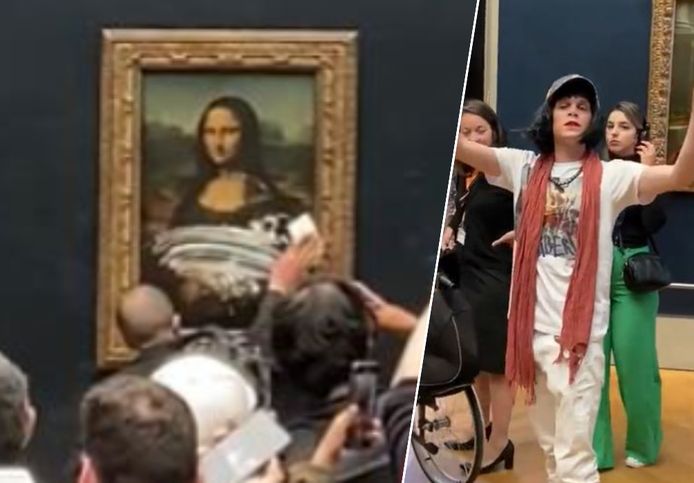 Stolen
It is not the first attack on Da Vinci's work, according to the Spanish newspaper. In August 2009, a tourist threw a cup of tea at the Mona Lisa, which then shattered the display case.
In 1974, when the work was on display at the Tokyo National Museum, a woman used a red spray, but it did not damage the painting. In 1956 there were two more attacks: in the first one, a man threw acid at the canvas, damaging the lower part. Later that year, a Bolivian painter threw a rock at work, causing minor damage to her left elbow. She was then placed behind the secured display case. In 2005, the glass of the display case was replaced by armored glass, behind which humidity and temperature are also controlled.
In 1911 the painting was already stolen by Vincenzo Peruggia, who then hid the canvas in his apartment. The Mona Lisa was not recovered until two years later when Peruggia tried to sell the work to the world-famous Galleria degli Uffizi art museum in Florence, Italy.
Watch our news videos in the playlist below:
Free unlimited access to Showbytes? Which can!
Log in or create an account and never miss a thing from the stars.

Yes, I want free unlimited access