When the American music magazine Rolling Stone 25 years, a pocket-sized collection was published in 1993: The Best of Rolling Stone – twenty-five years of journalism on the edge† It contained an extensive report on Dolly Parton written by Chester White 'Chet' Flippo, originally printed in Rolling Stone on August 25, 1977.
In this arena of 32 stories from journalistic powerhouses like Tom Wolfe, Hunter S. Thompson, and Greil Marcus about pop culture in all its forms, Flippo broke loose from the pack with an undeniable declaration of love to Dolly Parton dipped in a bath full of rose petals.
The story started like this:
What a great feeling it is to drive out of town in a rented, speedy sky-blue Mustang with a six-pack of cold beer on the bottom, the June sun is shining, the radio is playing loudly and Dolly Parton is sitting next to me. She sings along with Jimmy Clanton's old Just a dream and it seems to me that a certain amount of fantasizing is impossible to avoid.'
Mail from Dolly

I was reminded of Chet Flippo and his car ride through Connecticut with Dolly when I received an email from Nieuw Amsterdam on April 26, 2022 at 8.38 pm. This publisher has published the Dutch translation of Run, Rose, Run by Dolly Parton in co-production with writer James Patterson. It is Parton's debut novel, but not her first book. Previously published a poetry collection (1979), a children's book (1996), a cookbook (2006), and the song book Dolly Parton, Songteller: My Life in Lyrics (2020). And don't forget Dolly Parton's Imagination Library: her project to get poor children to read.
Ren, Rose, Ren, as the book is called in Dutch, is about Rose who 'fleeing from her past' seeks a 'new future' in Nashville. There she falls for 'the mysterious Ethan' and meets 'country legend Ruthanna Ryder'. Central question: 'Can she escape the demons of her past?'
At 8:38 p.m. on April 26, 2022, there was a long-awaited response to my request to take Dolly Parton for a ride in a rented sky-blue Mustang with Dolly Parton, ideally in the Nashville area on a hot day. On the other side of the ocean, this request had been boned in many stages. No Mustangs. No meeting. No phone call. No Zoom call. No questions about her preferences in many areas. Well: ten general questions that were supposed to relate to Dolly and James' latest writing.
And on April 26, 2022 at 8.38 pm – it was the Tuesday before King's Day – ten answers appeared, probably from Dolly Parton, introduced by the Dutch publisher: 'Hi John, you've got mail! Finally, see below!'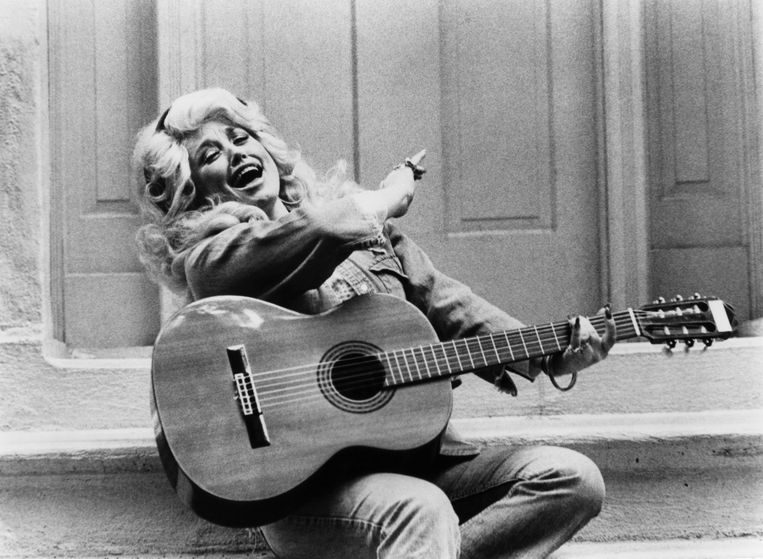 Chet Flippo

I'll bet a cold six-pack that the publisher never read Chet Flippo's 1977 story, given the enthusiasm for Dolly's response. And I don't think the publisher read that other Dolly story, also by Chet Flippo. That in 1980 led to her first Rolling Stonecover, dressed as a sunny-tempered Santa Claus, and started like this:
"There are few vistas more majestic than Central Park in the fall from the twenty-sixth floor of a Fifth Avenue apartment. Late afternoon sunlight gently gilds the trees and stray rays of the sun shoot through the canyons between elegant apartment buildings on the other side of the park. My attention drifts to another majestic face: Dolly Parton, silhouetted against the windows of her apartment. Part of her beauty is looks – the extraordinary body, alabaster skin and delicate features – but much of it comes from within. She turns around, and with a dazzling smile and a little girly voice she asks what she can get me, then walks barefoot past her painting by Claes Oldenburg to pour me a drink.'
You just have to dare, like Chet Flippo, to ask the floor at a meeting of the most prominent music periodical in the world in 1977, the year that punk rock erupted: Listen! It is of the utmost importance that Rolling Stone is going to tell a story about Dolly Parton, country music's best kept secret. We are dealing here with the greatest country artist since Hank Williams Sr. An original sensitive songwriter. With a beautiful, surpassing voice and a mischievous, playful spirit. Don't be distracted by her hourglass-shaped figure and her 'Miss Big Titsimage', her wigs or her lavish clothes.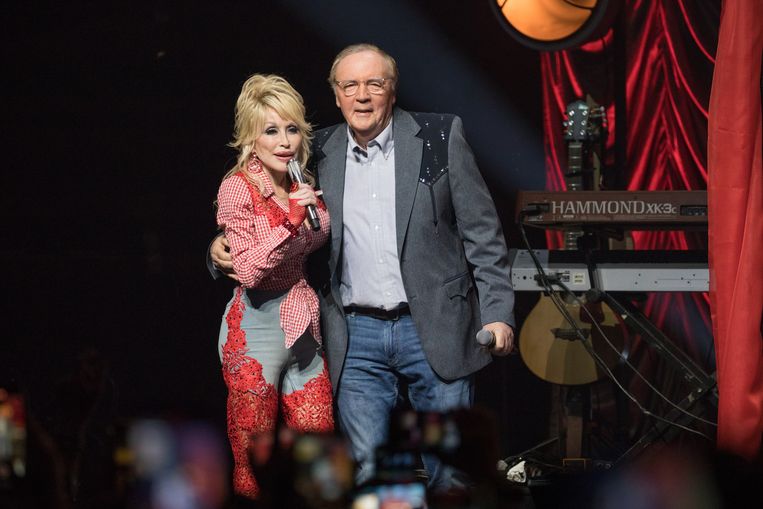 Breakthrough

She's on the verge of breaking out of the country music ghetto, Flippo said, and making the transition to the mainstream to become a wildly popular pop artist. A strong, tough, independent woman who always dares to set her own course. if Rolling Stone already determines what deserves the designation rock 'n' roll, bearing in mind the definition of Bob Dylan – 'Don't follow your leaders' – then Dolly Parton must be hoisted onto the shield. She only follows her own will.
Because Dolly (1946), from a family of twelve children and raised in poverty in the Smokey Mountains, left for Nashville on the day she finished high school. She wanted to be a singer, and soon married her Carl, director of an asphalt company. She performed with Porter Wagoner for seven years, until that was enough in her opinion. with the hits Jolene (1973) and I will always love you (1974) she put her best foot forward.
You could usually send Flippo (1943-2013) for a journalistic message, whether it was The Rolling Stones, Bob Dylan, punk bands, or literary, cinephile fringe figures. But he distinguished himself above all because he had an early eye for the intrinsic power of country music. He understood that great artists like Willie Nelson, John Denver and Waylon Jennings couldn't be dismissed as uncool rednecks, just as he understood that Dolly Parton's global conquest was imminent, because she was more than a singer, rather an exorbitant appearance. She was Dolly Parton.
Most likely personal

The first question that was answered in the email of April 26, 2022 at 8:38 PM was about the kickstart of the book Run, Rose, Run† It wasn't she who came up with the idea, she most likely tells me personally, but James Patterson. "He asked me if I would be interested in writing an exciting novel about the music business. I told him that not only do I lend my name to projects, but I also work on them myself. And that if we were to write a book together, we should also meet to see if it clicked. He flew to Nashville, we became fast friends and the rest is book history!'
For the book, she will most likely let me know personally, little has been drawn from her autobiography. There's a little bit of me in both female protagonists. Everything I write contains bits and pieces of me, and this one is certainly no exception.' It had been in the air for a long time that she would one day write a novel. She just loves to tell stories, her songs are full of them.
In The Tennessean, the American newspaper that also gave her an interview, she said: 'I feel most closely related to the main character in my book, because I remember exactly what it was like,' said Parton. "I was stubborn and I wouldn't take no. But I would travel, I would be disappointed. I would be hurt. I would be rejected very often. But I'd just get up the next morning, hit the streets, and knock on every door until, you know, I finally made it. But you will suffer a lot during that journey.'
cleaned

They were going to have a picnic, Chet Flippo and Dolly Parton, and she got to pick the spot. It became the cemetery of MIddlefield, Connecticut in June 1977, because she liked to write in graveyards. They were so nice and quiet, and God was usually around. She picked up a yellow cloth. She put delicious sandwiches on it, and the wine bottle opened. Flippo declared to be in paradise, intoxicated by Dolly's aura, including perfume.
He confessed to her how much he enjoyed interviewing her, also because her musical dedication and personality came from one piece. But also that he found her a lot more pleasant than Mick Jagger. She replied with a giggle: 'Do I look like Mick Jagger, Chet?'
For the effect that Dolly Parton has on people, a term was suggested to him by an acquaintance: 'She's a purifier.' She wanted to say that she cleans her audience, inside and out. She turns on the light, in the darkness.
At the end of the grande reportage, Flippo was sitting on a chair in the Oakdale Theater and Parton was on stage. A great week was coming to an end, just like the performance. Dolly sang closing Coat of Many Colors, the heartbreaking song about her bitter childhood, and the shame of growing up in poverty. As the last notes died down, Flippo noticed tears running down his cheeks. †Damn you, DollyI curse in silence. You finally got me down. Cleaned – me too. But you don't need to know that.'
Two months after the story was published, Flippo's vision came true. from the lp Here You Come Again she sold over a million copies and became the world famous pop artist that Flippo predicted. She went on to become a movie star, entrepreneur, philanthropist, and now a novelist. It was recently announced that she will be inducted into the Rock and Roll Hall of the Fame, the ultimate crowning achievement of the crossover.
By far the most Chet Flippo-esque answer that Dolly Parton most likely gave on April 26, 2022 at 8:38 pm, was related to the fantastic names song jolene. I wanted to know if the red-haired woman described in the song as flirting with her husband has ever come forward?
Dolly: "Ha ha."
Run, Rose, run was published by Nieuw Amsterdam publishers.