Joshua Nolet (34) has been over the moon since he became a father to daughter Coco in March of this year. Still, not so long ago, things weren't going so well for him. In an interview with 'Men's Health', the Chef'Special foreman talks candidly about the difficult time he went through during the corona crisis and his recurring winter depression.
"The silence was too confronting for me, so I numbed myself"
Joshua says he has been incredibly destructive for about ten months. This had everything to do with the corona pandemic and the fact that all Chef'Special performances were suddenly cancelled. "There was no more incentive, everything fell away – the whole festival summer, all the shows. There was no Coco yet. I thought: why should I take care of myself? I didn't have to be on stage. I didn't have to present myself. I needed new stimuli. I looked for them in the wrong things. Things you normally do at a party – alcohol and drugs."
Also read:

Joshua Nolet feels 'complete' by the arrival of daughter
The singer says that he normally has a "healthy, recreational relationship" with drugs, but that suddenly changed. "That crept in. If it gets too quiet, then I start to feel the pain that's underneath. I've always been able to work around that with a bow. I was always busy with the band, relationships or women. I always had something in which I could lose myself as a distraction. The silence was too confronting for me, so I numbed myself."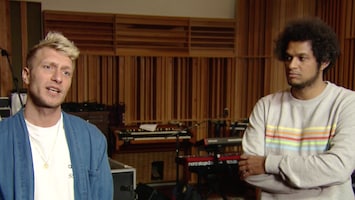 Also read:

Band members Joshua Nolet deliberately did not watch Wie is de Mol?
Fortunately, he had people around him who helped him. "I'm very happy that there were people around me who said: you're going too far," says Joshua. "That's one of my few skills: I always manage to get a group of people around me that lifts me up and inspires me. Those people also helped me at that time, with my girlfriend, Caroline, in the front."
Also read:

Joshua Nolet bursts into tears on stage after daughter is born
According to Joshua, this is also one of the reasons that he knew at the time that Caroline was the one for him. "She is the first to deal with my winter depression. She didn't run away, didn't try to fix me. She was just there. I knew: I can be depressed with you and you don't take it personally. She's my rock. I'm so, so grateful to her."
The singer has had to deal with depression, also known as winter depression, for the past seven winters. "During those depressions, there are moments when I really don't want to anymore. I no longer get out of bed and flirt with getting out of life. There is a dark blanket over everything and I can no longer explain to myself why I keep doing this I then have the feeling that I have nothing more to add."
Also read:

Joshua Nolet became a father for the first time: 'Welcome home, Coco'
Are you thinking about suicide? Talk about it. Call 0800-0113 or chat via 113.nl.
He is now on antidepressants, which have helped him a lot. "Not only does it take away the dark blanket," explains Joshua, "it also helps me with my almost manic moments in the summer, when I'm really high in my energy, I feel like I'm invincible and I just keep going. Sometimes I don't sleep for days, really like I'm high. It also takes those exaggerated peaks away."