Three weeks after she won The Masked Singer, Camille Dhont is back on a popular TV show. Love for music must be yet another step in a career that has been soaring for three years. Portrait of a lump of ambition.
Camille Dhont who covers 'Lift U Up' by 2Fabiola alone behind the piano: VTM is trying to take you to the eighth season of Love for music to lure. That starts today, but the teaser came two weeks ago, on the Monday after Camille in a kitty suit The Masked Singer won. After Love for music The West Flemish is preparing for a busy summer tour, after which two Lotto Arenas await. That she can win three MIAs next month is almost a footnote.
It's hard to believe that the first episode of #LikeMe, the Ketnet series about a school in which Camille broke through as the class's bitch of the same name, was broadcast just three years ago. By the way, the Wevelgemse almost did not get the part. "In the first audition, it was between her and a well-known Dutch musical actress with a lot of experience. Camille didn't have one and also sounded too Dutch. Perhaps a result of her diction lessons," recalls mom Isabelle Raveschot.
But two years later, Camille is back, with a polished accent, and she gets the part. Wouter Vander Veken, who is responsible for all the music #LikeMe edited, is blown away when Camille is in the studio with him for the first time. "It was very good the first time, and that rarely happens. That was a revelation, especially for someone with no experience."
No professional experience, that's true, but Camille's life has been dominated by music since childhood. She plays living room concerts with her dolls, registers for Junior Eurosong and at 12 she sings the song 'Amazing Grace' for a school project, a cappella and in perfect English, which she taught herself via YouTube. Her participation in a free podium of MNM, a year before #LikeMeis still on YouTube.
Firework

#LikeMe becomes a hit and wins children's souls from Wevelgem to Heusden-Zolder, where the sisters Ellie Martha and Renée Penxten don't skip an episode. When their daddy Regi watches and sees Camille, his jaw drops: "I was impressed by her voice and the fire in her eyes. That girl was made for the pop star life, I thought then."
At the Gala of the Golden K's, the Oscars of Ketnet so to speak, Camille and Regi start talking. They meet at Regi's house to discuss her musical future. "But instead of chatting quietly, she sang 'Forget the time' that same day." The song is in the Ultratop for 21 weeks and will be her first big hit.
In the meantime, another old hand has also discovered Camille: William Vaesen, known in the distant past as Niels William and the discoverer of K3. "Camille has a very clear goal in mind and is sticking to it. She's not going to make a quick turn or, as I call it, make 'musician music'." Wouter Vanderveken also notices this, who also #LikeMe becomes her advisor. "Some labels suggested a long and slow trajectory, but she teamed up with CNR, Regi's label that, like her, wants to grab the momentum." Along the way, her relationship with musician Tim Tielemans breaks down, something Regi recognizes. "I've also seen my marriage crumble because I love doing this so much. I recognize her drive, because I had it myself when I was so young."
Singing on the treadmill

Humble and thankful. A crazy box. A baby. That's how Camille is described by the people she works with. But above all, she is praised for her work ethic. "If she has a holiday in her agenda, it's because I planned it," Vaesen says. "Occasionally I find her singing on the treadmill. It is her way of preparing her Lotto Arena concerts, six months in advance. 's after party The Masked Singer she skipped to save her voice."
Maksim Stojanac, her opponent in #LikeMe, remembers a show on a sweltering summer day. "It was almost forty degrees and Camille had passed out. She was hyperventilating in the backstage until 'A Woman of Opium' started, the song her character in the series also sings. She stood up and played that song perfectly."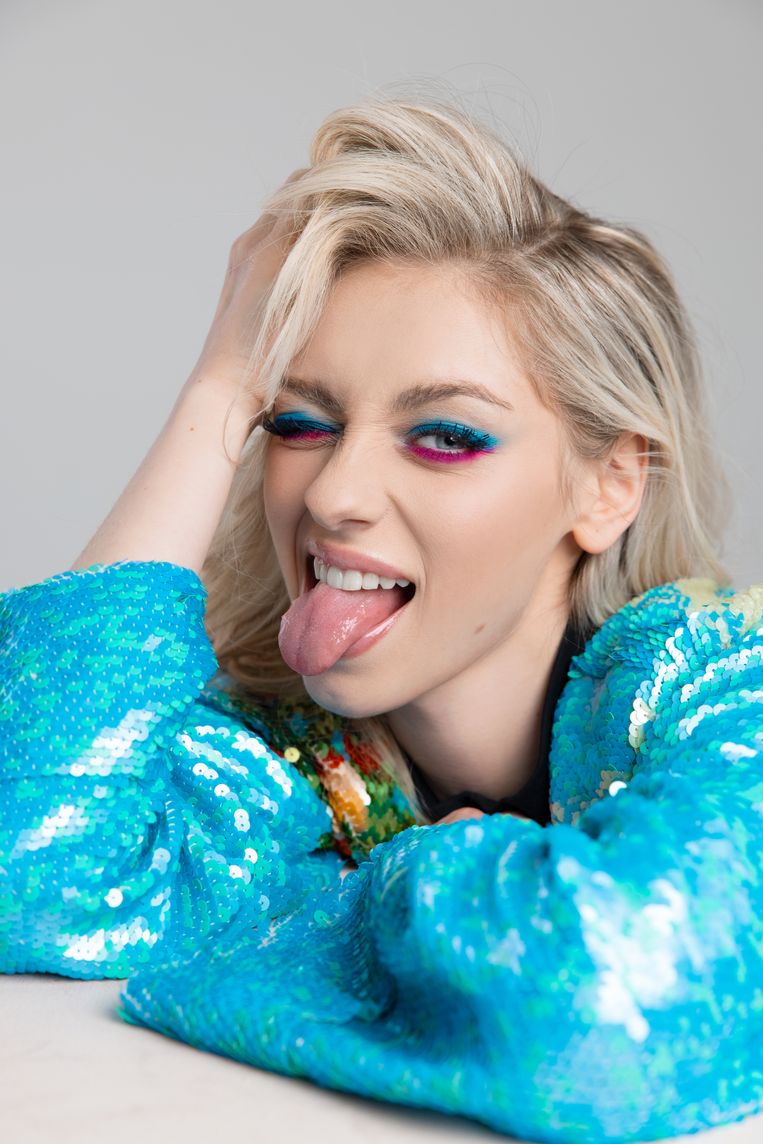 Picked on

It's the love for music, it sounds everywhere, but Camille is also hardened by her years as a lonely schoolboy. "I wasn't invited to birthday parties and I even heard that if another child met me, they wouldn't be welcome anymore. Is that bullying? Maybe a little. But actually that only made me stronger," she once said in story† Who knows, listens differently to her debut album Firework† "Sometimes I felt small / When the weather was bad / With every hope, every dream, every chance / It has shattered," she sings on the title track.
With her ambition and international sound, Camille is the right woman at the right time in a musical landscape that has actually long been looking for a female pop star who goes all out for glitter and glamour. The fact that abroad beckons is almost self-evident. Just before the turn of the year, Camille signed a contract with Sony Germany. Vaesen calls this attempt at international success 'modest', but Camille has been taking German lessons for six months. In The newspapaer she said she doesn't want to have children until she's had a career and traveled the world.
Love for musicevery Monday at 8.35 pm on VTM