Kabier Noor Mohamed (49) from Zuidoost is sometimes called the Hindu Hazes. Like the folk singer, he struggled with depression and drink, but always found support in his idol's music.
Balloons hang in the hall, quite cold, of the Cultural Education Center in the Bijlmer. There are standing tables with black cloth and a table with soup. Onions and vegetables, free.
This is the South East Parade, a small parade of heroes from Southeast, already a while ago, just before the last lockdown. Salto TV makes recordings. The broadcast lasts more than two hours, so there must also be music in between, artists from Southeast of course.
One of them is Kabier, the singer from the Bijlmer who is also called the Hindustan Hazes, and everyone who hears him sing immediately understands why.
The same range, the same sob, that sad one too.
"I'm supposed to sit there," he says, pointing to two picnic tables behind the stage, with tubes of tea and coffee, as well as sandwiches and a bowl of fruit, and a chrome table with wine, beer, and vodka ice. This is the artist space.
"But I'm not going to sit there or I'll be frozen before I have to perform."
He walks into an interior space. He doesn't even need a sandwich. "No, I've eaten at home before. Otherwise everything will come out right before the performance."
Always those nerves.
Kabier is playing a game on his phone. When he inhales, a ball goes up. When he exhales, a ball goes down. It's actually a relaxation exercise, the free version, so there are occasional commercials in between.
"I'm a nervous type, you should know," he says. "Whether I perform for two people, for twenty, two hundred or two thousand – always the same. All the time."
He has learned to live with it. "The very big ones have it too. I don't think it's good either if you don't have it at all. That you think: I'll do it for a while. But it's a bit exaggerated for me."
Another wave goes up and down on his phone. It works, a little.
His own first single also helps. Kabier sings A lie along on Spotify, but without words, in tones, as a singing exercise and relaxation exercise in one.
One more sip of tea.
It's almost his turn. A quick facetime with his vocal coach, Setske Mostaert, but it turns out to be too noisy for that, so that's what the app is for the last reassuring words.
Kabier is called on stage, to sympathetic applause. Of course he sings A liewritten by Billy Dans, the son of the owner of café De Twee Zwaantjes, who also writes for René Froger, Tino Martin, Danny de Munk and you name it.
"A lie, all we had now seems to be a lie."
The spirit of the great Hazes haunts this song. The audience is happy with Kabier.
The next song ('For all involved/a flower for jouououou') is perhaps a bit too Jordaan for Zuidoost, but they do clap along.
At Basic-Fit on the first floor of the Cultural Education Center they pedal along to the rhythm on the fitness machines by the window.
Loud applause.
Kabier gets a bottle of whiskey in a purple bag. "Go on, thank you," he says.
Dan: "We survived again."
Now it's time for a beer, take away those first stimuli, and meanwhile the messages are pouring in on his phone, from his friends at home in front of the TV. He did well. His singing coach is also satisfied.
Ellen Brudet, from the Black Doll Giftshop, approaches him from the audience: "My best friend just said: I want him at my wedding. Do you have a ticket?"
"No," says Kabier, "but I'm easy to find. Kabeer."
It is indeed an excellent stage name.
A little later he unlocks his bicycle outside in the dark. With a satisfied and also echoing smile: "Most artists go home in a limousine. Well, I'm getting on a rickety bike with loose mudguards and spokes. Yes, laugh, howl, roar."
One sip too many

In his flat in the Venserpolder, which overlooks the Amsterdam Arena, the place where André Hazes was paid the last tribute, Kabier talks about his relationship with Hazes. It goes deep.
"Mostly Little boy," he says. "That's almost my prayer. "Little boy, you're in this world, so you'll have to fight, just like me. Life is not easy, there is adversity at every moment.' That is my life story."
Like Hazes, Kabier has experienced periods of deep depression and one drink too many.
"I think I experience Hazes' music very differently than most people. To me it really feels like a kind of meditation. Just because I recognize myself in his voice. An emotional person. That depressive, the loneliness. Because of that recognition, there is nothing else that can heal me like Hazes' music. I also call him my physician."
He met Hazes once. In Paradiso, at Hazes' 50th birthday. "I kissed him on the forehead and said that what BB King was to him, he was to me. I thought: say it quickly, because in a moment they will hit me in the neck, because I was not invited at all."
"He reacted just like I do when someone compliments me. Very humble. Is he serious or is he screwing me over, you know? I immediately recognized the loneliness in his eyes. Depressed people recognize that from each other."
Kabier is not a talker, never learned. He himself calls this the SME syndrome, from which more Hindustani Surinamese suffer. Manai ka boli. What will people think?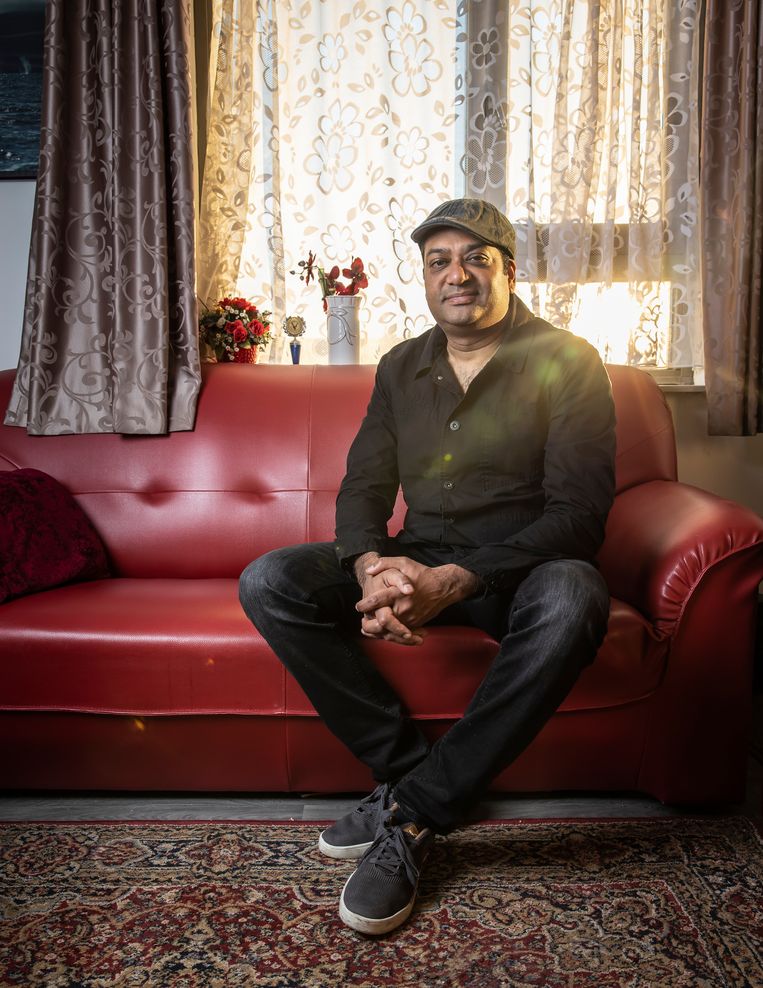 He grew up in the Stadionbuurt and later in the Bijlmer. School was not a great success and he went from job to job until about twenty years ago he fell into a deep depression, including suicide attempts.
It was at that time that he discovered karaoke. That was the Bulldog on Leidseplein, where he regularly came for a joint and a beer. In the beginning he just watched, later he dared to step behind the microphone himself.
He is not sure which number anymore, most likely Hazes.
It caught on, people liked it, a love was born.
During a pub crawl he ended up in De Twee Zwaantjes. "I immediately felt at home there. Friday, Saturday, Sunday, I was always there singing. I was still depressed at the time, but it has helped me to feel a bit more human again."
He developed his regular round: café 't Mannetje, Ondersteboven, De Blauwe Pan, De Twee Zwaantjes – and then sometimes the same route back.
"A beautiful time."
In De Twee Zwaantjes he got to know André Vrolijk, the Amsterdam celebrity on the accordion. Together they made two theater performances, first The Miraculous Healing of a Depressed Muslimand later The heart of a loveextremist†
Kabier has been doing much better lately. He has regularity and a great job at the examination service of the ROC in Zuidoost, within walking distance of his home.
Soon he will be a grandfather; his only daughter of 27 is pregnant. Only the relationship with his parents could have been better. "In short: they would have preferred that I had done better at school."
He can be gloomy sometimes, but he doesn't dwell on that anymore. He considers himself happy with all the fun things he does. His music, the performances, the theater and most recently his first single. Paid all by myself, including the clip.
"I really come from a deep valley, I also didn't work for a few years because of my depression and I lived in severe poverty. At the DWI they had already put me in the 'Hopeless Cases' bin. So that I can now do all those fun things: that makes you happy."
Classic Jordaan

Het Wapen van Amstelveen, at the end of February, the corona measures have been released. Kabier makes sense. "Certainly. Certainly. Certainly. Certainly. The roof will come off soon." Finally he is allowed again, in a full pub, and it is immediately packed. There are more who are finally allowed again.
Not in De Twee Zwaantjes, unfortunately. There are currently some problems with live music and complaining neighbours.
But here in Het Wapen van Amstelveen, the Jordaan has been effectively recreated. The clientele is also classic Jordaan.
André Vrolijk performs once a month on Sundays, from 5 p.m., and then he always takes a number of guest singers with him. Kabier can always come and sing, two or three songs, that depends.
"It's always special, every afternoon," says Kabier. "These days the Jordanians come to Amstelveen. You can hardly find that real, old Jordanian atmosphere in the Jordaan anymore. At most in De Twee Zwaantjes, then of course."
André Vrolijk sings about the foot of that beautiful Wester, and the full pub sings along, every word.
Kabier looks on, hands in pockets, gray jacket and flat cap, chest hair from the black shirt. It looks good.
Nervous weather? Kabier: "A little less today. Normally I go alone, but now I have friends with me. Maybe that makes a difference. And André always puts me at ease, that also plays a role."
Kabier's normal rate is 350 euros for a half-hour performance, but here he sings for nothing, as a favor to his friends. He only does that for charities, at least if they feel good. And of course the first Sunday of the month at his other great love, Café Chantant in Kapitein Zeppos. There he sings for four consumption vouchers.
He will soon be allowed in Het Wapen van Amstelveen She believes in me and Blood Sweat Tears to sing.
The classics!
Kabier: "Certainly! It also sounds great with accordion."
He does not know exactly what time it will be his turn. He beckons cheerfully. For now it is playing besame muchoand the whole Wapen van Amstelveen is its choir.
Kabier goes for another round. That way he won't get rich from this performance either. A 0.0 for Kabier. Better not to drink too much alcohol before a performance.
One of the other guest musicians is next. 'I love you, beautiful Amsterdam,' Dick de Jong sings, with a beautiful Jordanian shiver in his voice. The rest of the week he will be on the Albert Cuyp. duvets.
De Jong is allowed three songs, the pub has already warmed up well.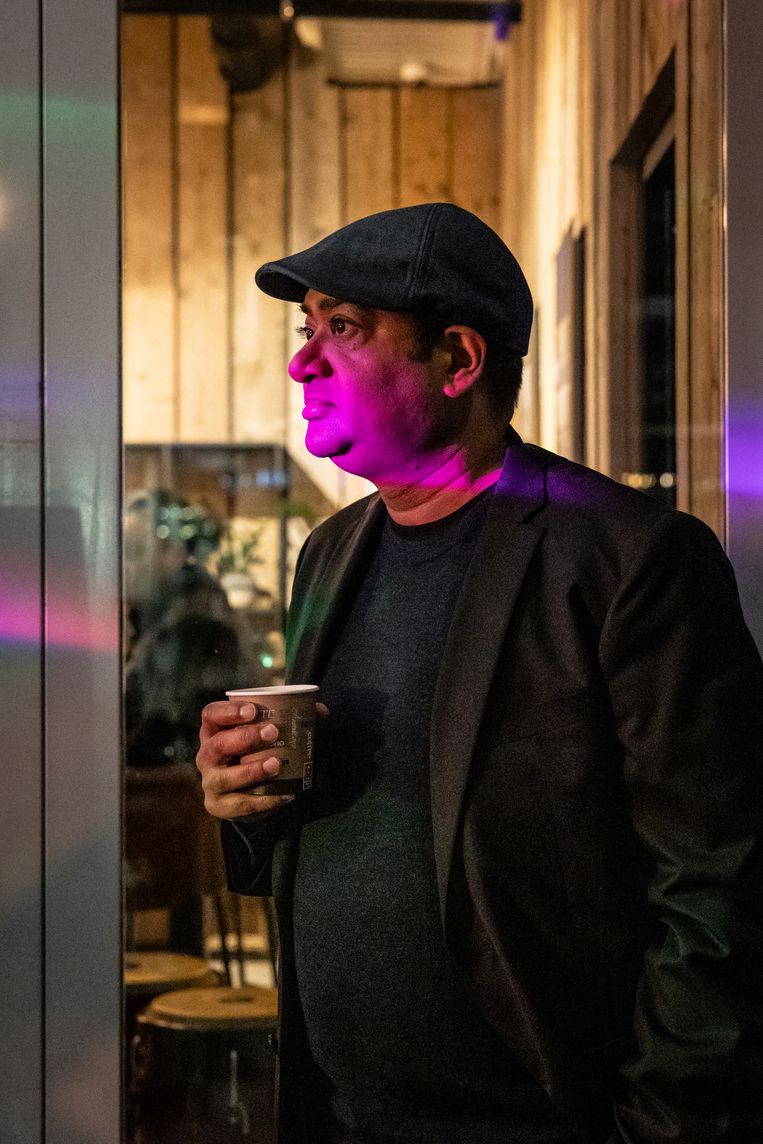 Not long after: a nod from Merry.
After the very first sounds of She believes in me, nostalgia immediately strikes again inexorably in the pub. Just before the chorus, Kabier quickly shouts: "Here we go, all together!"
That's going to be all right, all in all. Arms in the air, blissful looks, and: "She believes in mijijijijijij!"
Of Blood Sweat Tears it can never go wrong in a bar full of Amsterdammers that already has a sip in it. Although the real Ajax is 2-0 behind Go Ahead Eagles at that moment, but Kabier can't do anything about that.
Afterwards: "Ladies and gentlemen, applause for yourself."
They do.
Kabier is also allowed a third number. "Get all your clothes on," he sings – I feel so damned alone by Danny de Munk, another song that never gets dusty in a bar at appropriate times.
During the chorus, Kabier suddenly has a woman on his arm. "If only I had someone to love." We can speak of a successful performance. Kabier takes the many thumbs and pats on the back shyly.
But who was that woman on his arm just now?
Kabier, now with a real beer: "She got up because she had to pass. I thought: I immediately put my arm around her. It fits that song."
Then you are a real interpreter of the song of life.