Romilde van Dongen (40) is a reporter at RTL Boulevard and likes to write about love, dating and singles. As a single expert, she enjoys dating on television and does not hide her opinion.
"I don't know who is better off, she or the women who are left on the farm"
The first overnight stay of farmer seeks wife sat on it again and I looked my eyes out. Where farmer Rob pampers his women completely, farmer Jouke is not at all warm to his guests. That really pisses me off hot shot farmer this season. I don't know what happened to Jouke, but he's all in the hard to get mode.
Early in the morning his three lovely women try to bring out their 'inner farmer's wife'. They help the Frisian on his farm and when it's time for coffee at seven, they just act crazy, they have cake for breakfast. You're right, girls. But yours? He doesn't need cake. Like a clumsy farmer, he dumps his brinta into a bowl and begins to spoon it up furiously. Then he goes to sleep. The women are left behind at the kitchen table, bewildered. And that at seven in the morning, huh? Big negatives for you.
When Jouke is awake again, he continues to scare off his women. He mentions that he likes to be alone. And quickly annoys people. Jouke, Jouke, what are you doing? It seems that his fear of commitment has been completely fueled. The sweet Karlijn says she has no idea who likes Jouke now. No, that's right, if I see it that way, Jouke doesn't like anyone. And that while the three most beautiful women of this season are sitting at the table with him. Their brave attempts to crack the Frisian farmer yield little. Is he a bit of a romantic? That would surprise the women, he says. Well, me too, Jouke!
Also see:

Farmer Jouke has to get used to the ladies: 'I'd rather be alone'
And then take Farmer Rob. I think the makers of farmer seeks wife sitting on the couch cheering every Sunday evening. What a figure. Rob literally pulls out all the stops for his women. He used to be a musician, played in a band. And everyone should hear that. So after dinner his guests are presented with a living room concert. Like a true singer-songwriter, he accompanies himself on the guitar. It gives me the creeps. Oh. New. Then comes the harmonica. And then he picks up his double bass! "It's a talent," says Rob modestly. No, Rob. New! This really isn't possible. But wait, a minute. His wives love it. Wendy looks brooding through her lashes like a front row groupie of her favorite artist. Sonja even wipes away a tear. Has Rob found its way into the hearts of his women with his music?
But if you thought this was the high point with Rob, then you're wrong. I had to look twice, but it actually happened. When they go to sleep, Rob tucks his wives in like a caring father. Sit next to them on the bed. Just haven't picked up the textbook yet. And gives them a big kiss before going to sleep. I don't know what I see. But the women love this too. Match made in heaven, this farmer with his wives. Don't call me, Rob. brrr.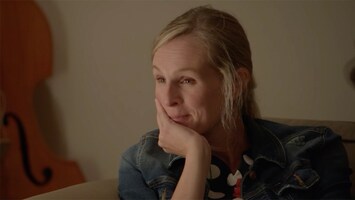 Also see:

Icy silence in Boer is looking for a woman after Wendy's critical question
For a moment I thought that in Limburg the cards had already been shuffled, but nothing could be further from the truth. If the cheerful Sander had already conquered the shy Janine, Michiel is catching up. It's almost a little embarrassing to watch, because during game of Uno, Janine and Michiel seem to forget the world around them. The two are having the greatest fun and poor Sander and Christiaan are only slightly involved.
Sander says something else, but I don't understand the man every time. He seems defeated. Come on, Sander, get yourself together! Win that woman for you. Fortunately, Christiaan does not give up. He takes his moment among the sheep and gives Janine a resounding yes when she asks if he is willing to move to Limburg. Between the pregnant ewes, Janine keeps us in suspense.
The biggest plot twist is with horse farmer Hans. Although everyone knows that you should never talk about your ex on the first date, all backpacks are put on the table on Hans' farm. It doesn't do much for the atmosphere, I must say. Funeral position. But the women and Hans like it. It seems like a free therapy session. They're just not doing family constellations yet. But things go wrong on the horse field. Like a true tyrant, Hans commands his horses, but also Dinie. Tears are in her eyes, but she doesn't dare say anything. Margaret does. "You don't have to talk to me like that", she bites Hans a moment later. Dinie sits there and nods.
When Yvon comes to the farm, Dinie doesn't remember. But Yvon wouldn't be Yvon if she didn't use her dating coaching skills in this predicament: "You think and feel a lot, but why don't you just say it?" Great plan, Yvon! But I don't know if Dinie still dares to do that when Margriet is sent home unceremoniously a little later. Nobody goes against horse farmer Hans. Or so it seems. I have never seen such a smooth moment of choice. Margriet thinks it's fine and doesn't go home with screeching tires just yet. I don't know who's better off, her or the women left behind on the farm.
Also read:

Maud's 'connectivity' in Boer is looking for a woman evokes many reactions from viewers
And then Maud. Maud, the woman with a voice like the NS announcer ('The slow train to Leiden is delayed by 10 minutes'… can you hear it?). Maud is the most colorful, talked about and perhaps hated woman of this season. Maud adores farmer Evert, with his 'clubbing' of hands, his whole appearance, she loves everything about the man. She can't cook and that seems to be a problem. Because that's what Evert seems to expect.
Just like Jouke, farmer Evert is on a planet that is unreachable. Maud also notices, she cannot reach him. Maud chases after him, but it doesn't work. She has never been decorated and she would like to one day. Oh well, Maud. But then she bites. Evert's hands, that is. She grabs his hands across the breakfast table. And yes, there is the contact again. Cora is just barely green with envy, but it doesn't bother her, she says. †be my kest!" she says in her best English.
farmer seeks wife see you every Sunday around 8.30 pm at KRO-NCRV on NPO 1 or look back here.